Google is the most dominant search engine in use. If you want your flooring business to rank high in Google search results, it needs to have a Google My Business (GMB) profile. Research shows that GMB features are the single biggest driver for ranking high enough to get placement in the search engine results' most highly valued real estate. In fact, the quality of your business's GMB profile is the single most important driver in determining its search results page location.
Activity regarding your business on external review sites, such as HomeAdvisor and Thumbtack, is another strong driver of your website's search results placement. Google often incorporates reviews of your business into your GMB profile, thus compounding their impact on search results placement. Whatsmore, their influence as local search ranking factors is growing.
If you want your business to be found by people searching for flooring contractors on Google - you must take your GMB profile and online review seriously. Otherwise, your website will end up in that wasteland that is the second page of Google search results.
You Already Use GMB Every Day – As a Consumer
Let's start with what GMB is not; it's not a social media site. It's (now) unconnected to Google+. It's vital to understand this distinction as it would be a huge mistake to consider GMB just another social media site where you should have a presence for your small business.
What GMB is: GMB is both a Google-based business directory plus a powerful suite of tools for business owners to use to develop their presence in that directory and online more generally. GMB matters because it's Google and its power to impact whether your flooring business gets a steady stream of new business inquiries from online searching is unparalleled.
The core of a GMB listing is the GMB landing page. The GMB is a free, Google-based mini-website for your business that embeds or links directly to your actual website. It displays information about your flooring business and shows reviews of your business.
Internet searchers get to your GMB landing page in one of two ways. First, they already know your business name but are Googling it to learn more about you. Second, they're doing a general search like "flooring businesses near me," and your business ranks well enough to make the first page listings.
These searches don't bring people directly to your GMB landing page. The search engine results page provides two potential opportunities for searchers to reach your GMB landing page. Your flooring business may be one of the three small businesses to appear in the Google Map box (also called the Local 3-Pack).
There may also be one small business featured in the Knowledge Panel, which appears to the right of the search engine desktop results list.
When a user clicks on any of the small businesses in either the Map Box or Knowledge Panel, it brings them to a Local Search or Local Finder page that lists a number of small companies that meet the original search criteria and have GMB listings.
Local business searchers can connect to your GMB landing page from the Local Search page. If your listing on the Local Finder page interests them and they click on your business name – they'll get to your GMB landing page.
You should be able to see how just this ecosystem of pages works together to drive traffic to your GMB landing page and your website. GMB has loftier ambitions than simply driving online traffic. Google provides a collection of GMB widgets and tools designed to get searchers to contact your small business at that moment.
GMB listings aren't merely about helping a prospect find your phone number or get directions to your premises. GMB is designed to drive new customers and generate revenue for your business. Moreover, if you want to get your small business showing up in the Map Box or Knowledge Panel, or even high on the Local Finder page – you must have a well-developed, active GMB listing.
Getting Started on GMB Is Easier Than You Think
There is a good chance that your flooring business already has a GMB listing. You just haven't claimed it. Google your business name to find out. You can get set up in about 10 minutes! Go to the GMB home page to create a GMB account and claim your listing. When you create your basic GMB listing, you'll add general logistical information (location, contact information, hours). You'll also select the business category that applies to your business, which is critical to improving search rankings and getting found by people doing the right searches. Based on Google's current category list, you may want to select an option like:
Floor refinishing service
Floor sanding and polishing service
Flooring contractor
Wood and laminate flooring supplier
Wood floor installation service
Wood floor refinishing service
You can also find category options appropriate for concrete contractors. Google will only let you select one category, so choose wisely.

Once you've created your GMB account and claimed your listing, you need to request Google verify your listing. This step is Google's way of keeping people unrelated to your business from claiming your GMB listing. After you're verified, you can fill out your GMB listing:
Add a business description that concisely describes your services – what you do, whom you help and why you're fantastic.
Add photos and videos. According to Google's research, GMB listings with photos get 35% more click-throughs to their website than those without images.
Add links, not just to your website's homepage, but to other critical pages within your site. For example, you can create a separate link that goes directly to a "schedule a service" page, or your website's service page. You can also list your different services directly within your GMB listing.
The Essential GMB Features That Will Boost Traffic and Revenue
The information above is the minimum, basic information your GMB listing should include. In truth, if you want to work towards ranking highly in the Local Finder page or even make the Local 3-Pack, you need to do a lot more with your GMB listing. Here are some other GMB features you should use:
Upload short posts to your GMB listing with Google Posts: Blog post content about your business is an important local search ranking factor. Regular post uploads show an active GMB listing.
Actively monitor and respond to questions searchers post on the Questions and Answers section of your GMB listing. This Q&A section lets local searchers ask your business a question – and they expect to get an answer. Why wouldn't you reply to someone reaching out to your business?
Learn how to read and analyze Google Analytics and GMB Insights, which is a data-rich dashboard Google provides to information showing you who is accessing your GMB listing, how they got there, and what they're doing once they're there (e.g., visiting your website, giving you a call, moving to another list). Use this information to improve and refine your GMB listing to instigate action from valuable leads.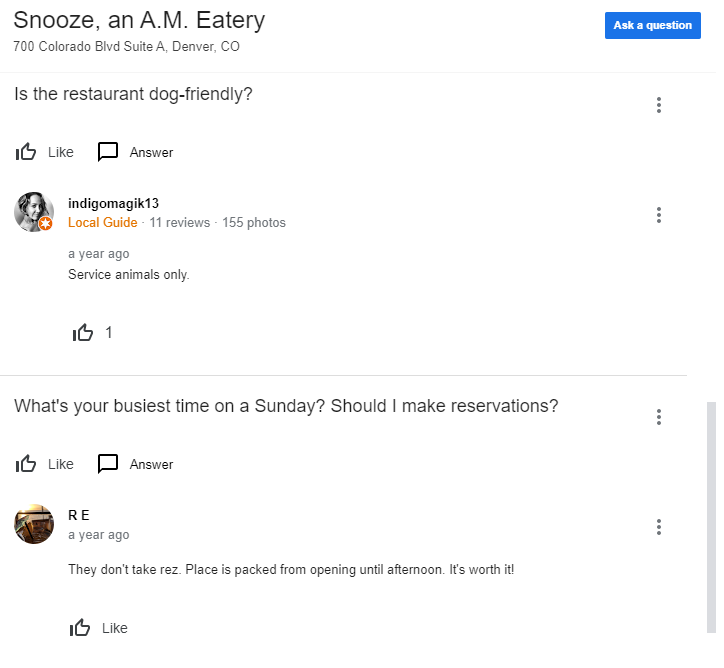 A GMB Listing Is Never Complete
While GMB isn't a social media platform, it shares one key attribute with social media: If you want your flooring business to be successful on the platform, you can't leave your listing alone after you first put it up.
A GMB listing that will improve your local search rankings and drive revenue to your business, in addition to traffic to your website, needs constant care and attention.
Your logistical information, including hours, must always be accurate. If you have different holiday hours – post your holiday hours.
As your services change, update your GMB listing.
Regularly adding new images and posts keeps your GMB listing fresh and active – qualities both Google search ranking and prospects like to see.
Respond to questions in Q&A and specific reviews in the Google Reviews section promptly. Timely and full responses direct to consumers are another feature both Google and humans expect.
Indeed, your business's reviews and star rating that appear in your GMB listing will continuously change based on customer feedback. Managing and monitoring your Google reviews is so critical – it gets its own section!
Bend the Knee to the Powerhouse That Is Google Reviews
ALT:
Google Reviews is powerful – use it to your advantage
Reviews are a critical part of your GMB profile
Business reviews, both native to GMB and those on other review sites, are now among the top factors prospects use to decide whether to contact your business or one of your competitors. Here's just a bit of the research on the impact of customer reviews on decision-making:
93% of local consumers use reviews to determine if a local business is good or bad
72% of customers don't take action until they have read reviews
92% of B2B buyers are more likely to purchase after reading a trusted review
According to the 2018 Online Reviews Survey, Google is now the number one online review site. You cannot ignore the GMB review section. You need to:
Encourage the posting of positive reviews, without paying or rewarding people to post positive reviews. This is a constant task. 85% of consumers don't think reviews older than three months are that relevant. They want to hear about who you are right now – at the time they're thinking of hiring you.
Respond to some positive review and respond appropriately to all negative reviews. Google uses review responses, or lack thereof, as a factor that impacts your local search ranking results. Lack of response to negative reviews has a more significant, negative impact as such a factor, than positively responding to positive reviews.
Understand that your GMB listing will show reviews native to Google, but also show an aggregation of star-ratings and reviews of your flooring business made on other review sites, both general (like Yelp) and industry-specific (like Thumbtack and Home Advisors). The takeaway here is that you need to have a review management program that actively monitors and responds to reviews on GMB and the full complement of other relevant review sites listing your business.
Google sends you alerts when new Google reviews are posted, which makes the monitoring process easy. Snippets of reviews will appear wherever your GMB listing appears, from local search results page to Google Maps listing. Stay on top of them.
Best Practices for Responding to Google Reviews
Replying to Google reviews is good customer relations management and helpful in improving your website's search rankings. Set up notifications with your GMB account so you know when a new review has been posted. The best practices for replying to reviews on other external review sites apply here.
Don't ignore positive reviews! Profile engagement is a major contributor to improving search ranking and that includes replying to happy customers. You don't need to reply to all of them (although you might), but definitely regularly reply. Thank them and reference one detail from their review, so it's clear you read it. Perhaps offer an extra tip to help them out. Do not post generic "thank you" replies; that's worse than not responding at all.
You must respond to negative reviews - but wait for a beat, especially if you're feeling angry or defensive. As you write, stay professional and focus on solutions. The solution can be anything from clarifying context or letting them know you'll contact them privately to discuss solutions offline. Acknowledge the reviewer's feelings. Let the reviewer (and everyone reading your reply) know your business consistently works to improve services.
In all cases - be concise!
GMB Is the Second Star in Your Online Presence
Think of your GMB listing as an online satellite location for your flooring business that shines the light on to your small business's main digital asset – your website.
Investing time and resources into developing and maintaining a complete and active GMB presence supports all your other online marketing efforts in critical ways.
It checks the boxes on a number of high impact local ranking factors that will improve your website's organic local search results, in addition to your GMB listing.
The content you need to maintain a complete and active GMB listing is content you can take from or repurpose to all your other online assets. Images you post on your GMB listing can also be posted to your Instagram or other social media. Posts you write for your website's blog can be summarized and posted as Google posts. Taking this content repurposing approach guarantees that you're keeping content fresh on all your online assets and saves you time.
You cannot win the local search results game without a GMB listing. Your flooring business's website plus its GMB listing are the foundation for all your marketing efforts, so give them their due, ongoing attention.