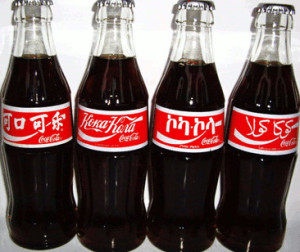 Globalization remains the world's ray of light amid today's economic environment of high fiscal deficits, high debt and high unemployment. As the world economy slowly emerges from one of the worst financial crises since the Great Depression, your company can sustain its growth by globalizing your products.
Many U.S. multinational companies sell their goods and services in global markets that foreign competitors would otherwise dominate if the American firms were not there, according to a story by U.S. News and Report in 2013. In fact, more than fifty percent of product sales from some of the biggest U.S. corporations come from overseas. These include:
67% of Down Chemical sales are outside America
66% of McDonald's sales are from overseas.
64% of IBM's sales are from overseas
54% of General Electric's global sales are outside of America
51% of Ford's global sales of automobiles are overseas
How Your Company Can Capitalize on Opportunities Overseas
Globalization is not just for large companies. Many small and mid-sized companies today are able to globalize their products. Globalization involves preparation to sell your product in many markets worldwide by adapting to language, cultural differences, time zone and measurement standards. There are a few ways your company can begin to globalize your products.
Talk about Your Products in the Host Countries' Languages
One of the most vital things you'll need to do to globalize your product is to communicate about it in different languages. That way your prospective customers can understand its benefits.
Although economists at the International Monetary Fund project the global economy to slow down to 1.5 percent in 2013, they expect the demand for language related services, such as translation and localization, to grow at 12 percent, according to The Globalization and Localization Association. The demand for language services, particularly for Internet and e-commerce-related communication, is high throughout Asia, Africa and the Middle East.
By providing your website visitors information in their language, you can increase the demand for the sale of your products through e-commerce. The more your product looks and feels like it belongs in the local country, the bigger your sales potential. According to a report by Web Marketing Today in 2013, there are three things you need to do before rushing in and translating your website to new languages.
Don't rush into translation. Instead, make sure that you can service customers in their language on your shopping cart, through email and by phone. Plus, you may need to accept payment in each country's currency.
Focus on what and not how much to translate. Find out what is right for local markets by talking with local salespeople, partners, translators and most of all, customers.
Provide instructions and style guides to your translators so they know what you expect.
Adapt Your Website Content to Fit the Culture of the Local Market
Every country has a different culture. There may even be more than one culture within a particular country. This is why cultural marketing is vital for product globalization. Cultural marketing involves promoting a message to potential buyers in a particular culture.
Culture sometimes guides consumer judgments and behaviors with respect to the purchasing of products. Therefore, for an advertising message to be effective, you must understand how to tailor it to a particular culture.
The Stanford University Graduate School of Business explains that Asians tend to value protection and security, whereas Anglo Americans value achievement, accomplishment, and independent thinking. Therefore, Asians respond favorably to advertising messages about Welch's grape juice when they focus on improved health and disease prevention and Anglo Americans respond best when the ads focus on higher energy levels.
Time Zone
Time zones are an important consideration when globalizing your products. You'll need to make sure you have customer service and technical support staff available to respond to customer inquiries and product orders. Plus, you'll need to incorporate time zones with your shipping orders and instructions. For example, if a customer is located seven time zones east of your office, then you may not be able to provide overnight shipping on product orders.
Measurement Standards
When globalizing your product, you'll need to use the same measurement standards as your audience to maximize sales. In the United States most measurements are in a U.S. customary unit system. Yet, most of the rest of the world uses the metric system. So, you'll need to use the U.S. system for your website to a U.S. based audience whereas you'll need to use the metric system for your website to a European or South American audience.
Which Market Should You Target First?
Globalizing your product is easiest when you take small steps. Marketing your products in countries that speak the same language and have a similar culture as yours is a good first step. For example, if you are a company based in the U.S., the first place to globalize your products could be English-speaking countries, such as the Canada, United Kingdom, and Australia.
Also, consider the sources of current and past product orders. If you have customers in Japan, then you might consider increasing marketing efforts there.
One overlooked option is the Spanish-speaking market. Spanish is the second-most spoken language in the U.S. It may be easy to develop a full marketing program to Spanish-speaking communities in the U.S. and abroad. Plus, the Spanish-speaking audience in the U.S. can help you appropriately adapt the various cultural aspects when marketing to different Spanish-speaking countries. For example, the culture in Mexico is very different than the culture in Argentina or Spain.
Last, but not least, study the trends of emerging markets to see where demand for your products is increasing. For example, if you sell auto parts and the demand for these products is growing rapidly in India, then you should consider targeting India earlier on in your globalization plans. Whatever you do, go slow and make sure you listen to the local residents in each country for clues about their response to your product promotions.