The Internet is the first place your prospects go to search for solutions to their problems, including products or services. That's why it's vital for you to have an online presence. Otherwise, they'll go to your competitors and you'll lose a sale.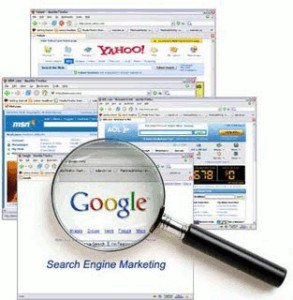 Having a website is not enough for a web presence today. You also need to have your business listed where your prospects and customers search for information. In fact, you need to outshine your competitors by having these listings place your business ahead of theirs. The question you need to ask is, "where to be listed?"
Where Should You Promote Your Business?
The Internet has many listings. To be listed in all of them would be absurd since it may expend too much of your time and resources. Just as you would diversify your investments in various stocks, bonds, mutual funds and other types of financial instruments, you should also spread your presence among different types of business listings, such as search engine-affiliated directories, local search directories and social media sites.
There are ten sites you should use to list your business. These ten sites will help you to reach your target audience and sustain a competitive advantage.
Search Engine Affiliated Directories
Google, Microsoft (Bing) and Yahoo! comprise the top three sites by search engine traffic in the U.S. in July 2013, according to comScore. About 67% of searches are on Google, 18% on Bing and 11% on Yahoo. These three search engines now have business directories. Getting your business listed in these directories is a must. This is because these search engines favor businesses listed in their directories over those that don't.
1. Google
Google is the marketing giant - first in search engine rankings and now in online business directories. In fact, Google has recently shut down Google+ and is, instead, continuing to expand its Google My Business (GMB) platform. Google uses both its search engine and GMB to support each other, which makes GMB a critical place for your business to be listed.
When you complete your business GMB profile, Google uses that information in its search algorithm, making it easier for Google to include your business in the most relevant, local search results. The more information you add and more often you and your customers post photos, reviews and blog posts to your GMB listing, the more Google learns about your business. The more Google knows about your business through GMB, the greater the impact on where you rank in local search results.
With your attention on the right search queries and keywords, you can see your GMB listing pop up in the coveted three-pack space of Google search results.
2. Bing Places for Business
Like Google, Bing also has a business listing. Microsoft calls it "Bing Places For Business". You can include content about your specialties, and you can add photos and videos. Bing Places for Business also enables you to upload and manage multiple listings at once. It supports the Google+ Local format so you can quickly manage your business reputation online.
3. Yahoo!
Yahoo!–once the leading search engine–has made major changes in its strategy ever since Marissa Mayer became CEO. The company announced it will change its logo, enhance the content throughout its site and compete stronger for traffic. Yahoo! has not yet fully announced what it may do to help businesses listed increase their presence.
Yahoo! has three levels of services for business listings. The first is a free basic listing that allows you to include content about your products and services. For $10 per month Yahoo! allows you to add photos, video and other content to your listing. Yahoo! Local Works is the third level. For about $90 per quarter, Yahoo! Local Works will add your business listing in up to forty other directories. Plus, it will monitor customer reviews of your company to help you sustain a good reputation.
Pure Play Local Business Directories
There are numerous pure-play local business directories. Unlike Google+, Bing Places for Business and Yahoo – listings associated with search engines and other services, pure-play directories focus primarily on local search. Some of these services have other features not found in Google, Bing or Yahoo. Here are four business directories that can help your business grow its local presence.
4. Yelp
Yelp is among the most popular sites consumers search for local businesses. People use Yelp to connect with local businesses. They search for many different categories of products and services in their local areas. These include hair salons, doctors, restaurants, home improvement products, automotive products, car mechanics, insurance services and more. Plus, Yelp is the destination site where people go to find out about local events.
Yelp claims it had an average of 108 million unique visitors in the second quarter in 2013,
and yelpers have written over 42 million local reviews of businesses during this period.
Your company can set up a free account to post product information and photos. You can interact with customers. For a fee you can also advertise your products and services.
5. MerchantCircle
MerchantCircle – with more than 1.2 million merchants– gives your business the ability to market your products and services and get new customers fast and easy. Through MerchantCircle.com, you can create your online presence, launch online ads, manage your reputation and appear in top search engines.
Unlike pure local business listings, MerchantCircle.com is a destination site that helps consumers quickly move from local search to transaction. It allows consumers to find and engage with businesses in their local areas.
MerchantCircle has an active online business-to-consumer community. Reply! Inc., a leading marketplace for acquisition of locally-targeted consumer traffic, re-launched MerchantCircle.com in 2012. It has several ways for your business to get new customers. These include:
LeadStore is a service that gives local merchants a way to buy qualified, relevant local leads on an on-demand basis across a wide range of business categories.
DealStore, a service that increases the visibility of merchant deals, coupons and other promotions. DealStore gives you premium placement on city pages, emails and the MerchantCircle.com category page.
Placing local sponsorships allows your business to have premium placement on city and category-specific search results.
Using lead management tools allow you to review and manage customers and have new customer leads delivered directly to your inbox or mobile device.
You have access to customer inquiries from consumers that search for services on MerchantCircle.com and the Reply! Network.
6. Yellow Pages
The YP Local Ad Network provides local businesses with a cost-effective source for consumer leads. YP can give your business a way to tap into more than 60 million monthly unique visitors. This is across 300 affiliated online and mobile publishers. Over 600,000 businesses customize local advertising campaigns each day. Consumers use YP Real Yellow PagesSM business directories more than 5 million times each day to seek out local businesses. Plus, YP has a mobile app that attracts over 50 million monthly unique visitors.
7. EZlocal
EZlocal makes it easy for your business to connect with people who search online for products and services in their local areas. EZlocal has over 2 million indexed pages on Google, EZlocal, Bing and Yahoo! and other high-traffic search directories, social networks, online maps and mobile sites. Listing on EZlocal automatically gets your business indexed on these locations.
Social Media Sites
The trend for social media has been climbing and it's only destined to grow more in years to come. Almost three out of four online adults use social media, according to report by Pew Research in August 2013. Having a presence on three leading social media sites can help your company reach customers and generate new business. The benefits of social media include the fact that it can be a low cost way to reach new customers, so use it to build your brand to a global audience.
Social media can also enhance your search engine rankings. Successful companies integrate social media into SEO strategies, whereas companies that do NOT use social media struggle with their SEO rankings, according to a study by Search Engine Land in July 2013.
8. Facebook
Facebook is the top social media site for businesses, particularly for B2C companies. According to the latest report Facebook has over 1 million active advertisers, driven mostly by growth in local businesses. You can interact with prospective and current customers through wall posts and direct messages. You can promote special offers and testimonials from fans. You can also conduct research through polls. Facebook is rapidly growing its mobile application, expanding your reach to millions of people worldwide.
9. Twitter
Twitter offers your business an easy way to reach your target audience. You can connect your company with customers in real time. Your company can use Twitter to quickly share information with people who express an interest in your products and services. You can also use it to gather real-time market intelligence and feedback. Plus, you can develop relationships with customers and strategic partners. Twitter is available in twenty languages and reaches a global audience.
10. LinkedIn
LinkedIn is focused primarily on networking with 225 million members in over 200 countries and territories worldwide. It's a great way for you to connect with other businesses for sales and strategic alliances. You can interact with other executives by starting or joining groups and discussing topics of interest. Plus, you can broadcast messages and news about your products and services.
5 Things You Need to Keep in Mind
There are five things you need to know to help start and sustain your online presence.
The first is that most business directories are free. Getting listed does not require you to reach into your wallet, but you will need to invest some of your time.
The second thing to keep in mind is that you'll need to update the information in each business listing every few months. Make sure the information in each listing is the same so that you promote a consistent message. This will help to build credibility with the search engines. It will also help you to build trust with prospective clients who visit your listing. Prospects will more likely contact you if they feel assured the information is correct and relevant to their needs.
Third, make your business stand out. Highlight the benefits of your products and services and any unique advantages of your company. Use keywords in the description of your business. This will help increase rankings of your listings among the search engines. Also, include all of your contact information including website URL, phone number and address so you can make it easy for prospects to communicate and do business with you.
Two examples of brands standing out with the use of social media include Heinz and Old Spice. Heinz used Facebook to launch their 5-bean blend. They created a game with a series of questions about types of beans. Each hour they sent the winner a personalized bean and gave goodie bags and coupons with Facebook members who shared the app with ten people.
Proctor and Gamble used Twitter to promote a series of 183 short comedic videos about its Old Spice deodorant following its Super Bowl ad. It got rave reviews. The company created the videos in response to real-time viewer comments on Twitter about its brand. This campaign resulted in improved sales of the product.
Fourth is to ask your customers to give you positive reviews in some of your listings. This can speed up and increase the number of prospects who contact you after reviewing your listing.
The fifth and most important thing is that your business directory listings will have the potential to be indexed by search engines. This provides you with another opportunity for your prospective customers to find you, which is why you are on the Internet to begin with…for your prospects to find you.