You have heard it before and we have said this before and we'll keep saying this until the world takes notice and catches up with this new trend in business technology. This is why we're glad Google is finally getting on board and issuing a world-wide announcement,
Starting April 21, we will be expanding our use of mobile-friendliness as a ranking signal. This change will affect mobile searches in all languages worldwide and will have a significant impact in our search results. Consequently, users will find it easier to get relevant, high quality search results that are optimized for their devices.
What Google is simply saying is that starting April 21, your website's mobile search engine rankings (in search results performed by anyone in the world in Google search engine) will suffer unless your website is optimized for mobile devices.
Why Is Going Mobile Important?
Going mobile is important because your audience is using mobile devices to find you, to buy from you, and to connect with your business. And if they can't find you through their mobile device, or if they can't spend 3 minutes on your website through their mobile device, they will look for someone else who will pay attention to them and adjust to their needs.
The world is changing and your business needs to change with the world. Until a few years ago if your business didn't have a website, you were losing business. This is just an upgrade from that. It's not just about having a website, but having a website that can adapt to device it's being viewed on.
How to Check If Your Website Is Mobile-Friendly
W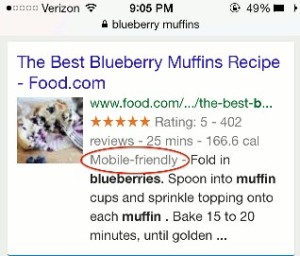 ell, your website may be mobile device friendly, we don't know. Jessica Bowers shares two easy ways for you to check mobile device friendliness of your website.
Check Google search results for your website. Your site is already mobile friendly if it has a "mobile-friendly" tag next to its search results as shown in image to the right.
Run your website through Google's mobile-friendly test.
There is also one more way you can check mobile friendliness of your website, and that is by visiting your website in a mobile device browser by using at least three different smartphones (Android, Apple, and Windows) for legitimate results. Of course, if your website isn't mobile-friendly, you will see that immediately due to slow website loading.
In order to make your website mobile-friendly, contact your web designer or webmaster. If your website has been lying dormant and neglected in need of an update, contact us today. We know that being presentable doesn't only lie in adapting to new technologies, but we know how to help you reach your target audience as well.