The digital transformation leaves no industry untouched. The same holds true for how real estate agents operate their business. The digital age offers easy, low-cost access to a wide variety of real estate agent tools that empower agents to conduct all types of business from any location, including a virtual office.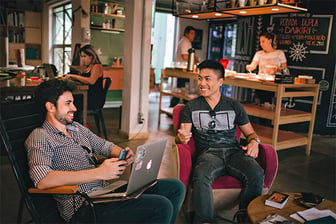 Equally as important, the digital ubiquity is changing people's expectations and behaviors regarding the buying and selling process. According to the National Association of Realtor's "Real Estate in a Digital Age – 2017 Report," 99 percent of millennials use the internet to find an agent or property, while 77% of the silent generation did. So even at the low end of internet usage scale – over three-quarters of the silent generation are still relying on digital tools to buy or sell property.
Thus, when rent and maintenance of a physical office is the most significant line item of your overhead budget, the questions become: What role does having a physical office play in either your marketing or service delivery efforts? What sort of ROI (if any) are you seeing by having a physical office space?
To help you answer these questions, it's worth taking a close look at what you can do with a virtual office space instead of a physical office. Only then can you clarify what tasks, events, and opportunities require a brick and mortar setting.
Marketing yourself and your properties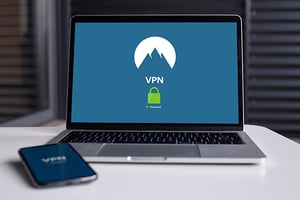 We're in a golden age of accessible, sophisticated marketing technologies. Real estate property search sites like Zillow and Trulia, and platforms to find real estate agents like Realtor.com, are just the beginning. Posting available properties on high traffic real estate search engines, and posting a professional-looking agent profile is more valuable than merely posting printouts in your office window for street traffic to notice. Having a strong, professional profile on the right social platforms, niche or general, increases not just the likelihood you'll be found, but also your credibility with buyers and sellers who expect an agent to have a comprehensive online presence.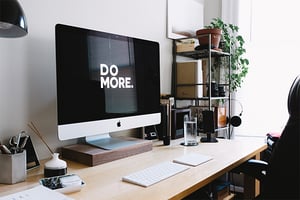 There are so many more ways to market yourself and your properties online, all of which will reach farther and wider than in-office events. For example, instead of holding in-person events to educate novice buyers on a topic, you can hold a webinar. There are a host of webinar and phone conference tools that make promoting and producing webinars easy and low cost (the i7 team has webinar experts who can help get you started!). Since the event is online, you can reach a broader audience and have higher attendance due to the convenience factor. Best of all, recording a live webinar means you have content you can continue to use in your marketing.
A common, effective online marketing tactic is to offer an ebook or some high-value content (it could even be the webinar) in exchange for some information about the person who wants the content. At a minimum, you'll get an email address to add to your marketing list. You might also collect additional valuable information, like their timeline for when they want to buy or sell, what neighborhood(s) interest them, or their price range.
Need help setting that up and getting your first webinar going?
You'd be surprised what we can offer.
CONNECT WITH US
The more information you can collect, the more targeted email content you can send to them. Great email service provider (ESP) tools like Constant Contact and Emma have low monthly subscription rates and provide powerful tools to segment and refine your email marketing. NAR's 2017 profile of Home Buyers and Sellers report found that 54% of buyers used a real estate agent that either was personally referred to them or with whom they had worked in the past. Since 70% of buyers said they only interviewed one agent during their home search, staying top of mind with past clients who can refer you to new clients should be a priority to keeping your client pipeline flowing. The report found similar numbers on the selling side, with 64% of sellers finding their agent through personal referrals.
The bottom line here is that your most effective marketing, even on a one-to-one scale with past clients and people on your email list, is being done online.
Property shortlists and virtual tours of real estate
Real estate agent tools that let you create virtual tours of real estate properties are flooding the market. You can check out a number of them Easy Pano, Real Tour Vision, Paneek and Marzipano. Moreover, that's just for starters. Providing virtual tours lets buyers refine their shortlists and are especially useful for out-of-town buyers. When selecting a virtual real estate tour tool, make sure its file format works well when viewed on a mobile device, has fast load speeds, and provides a quality viewing experience. Also look for a tool that lets the user direct the tour, rather than be a passive rider along a canned tour video.
The point is that you don't need much technical equipment to be stored and used to create beautiful virtual tours. Once the pictures and videos are taken on the property, the editing and publishing software tools can be used anywhere you have an internet connection for your laptop. If you don't want to divert your time to edit your videos, let the accomplished web video editors at i7 Marketing take that task off your hands.
However, what about the client service…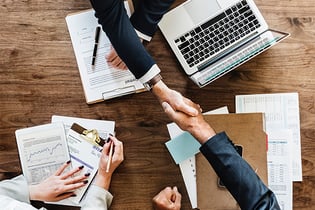 That's what you're thinking about, right?
How much of your communication is done via phone or online? How much of your in-person contact is done at the properties, especially on the buyer side?
The greatest added-value you can bring to your client communications is through the use of client relationship management and social media management tools. Tools that capture and provide you valuable insight into people's current interests and motivations so that you can be in touch at the right time with the most relevant information. Tools like Nimble and SproutSocial access social media networks and integrate with your email marketing tools, enabling you to be responsive and on point in every type of client communication.
The office as a symbol of success
For some clients and markets, you may feel having a physical office is necessary for showing a successful, professional front. That may well be true. In this case, the question may be how much physical office space do you or your team really need?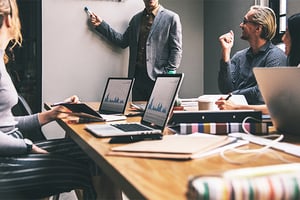 When you get experienced with operating a virtual office, you need less room for desks (does everyone need their own), storage and other office equipment. If what you need is a conference room or lounge that offers a white-glove experience, then focus your office dollars on creating that space. If you can use the virtual office approach to reduce the amount of physical space you need, you might decide you can afford space in a better location – perhaps it has better foot traffic or has a more prestigious zip code. Another option is to contract with any of the co-working spaces that can provide conference or desk space on an as-needed basis. Here are some local virtual offices: Go Rogue, The Boardroom, The Estate Building, and LiquidSpace. Not local to the Medford area? Here are some other popular virtual offices around the country: WeWork and Regus.
You've always been working in a virtual office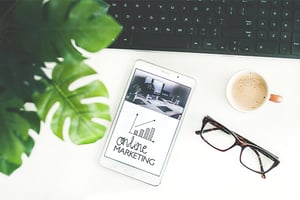 The truth you're a real estate agent because you're a social person. Making personal connections, being a resource of advice and support; these have always been vital components of building a thriving real estate agency.
The difference today is that technology has changed how buyers and sellers operate in the real estate market. The volume of independent research they can do online is unprecedented. This means that the way real estate agents operate has to change as well to meet the evolving expectations and needs of sellers and buyers. They still want and need professional expertise and guidance through the complex and emotionally-fraught process of buying or selling property. Only now, they expect you to be available on and offline.
Fortunately, the technology that's changed market behavior also provides you the real estate agent tools you need. When you sit down to crunch the numbers and opportunities in a cloud office analysis, you may be surprised by what you find.