Marketing automation is a server-based software tool that enables you to turn leads into customers, and it allows you to nurture customers into buying more of your products or services more often. It helps you fulfill these achievements through automated campaigns that involve email that you may integrate with postcards, letters, and text and voice messaging. In essence, marketing automation is a management technology that can take your marketing results to a much higher level while saving your organization manpower, time, and money.
From Email to Marketing Automation
Since the 1990s, email has become a standard way to communicate with contacts. Compared to traditional direct marketing strategies, such as direct mail or print response advertising, email marketing costs less and can provide a higher response rate. Thus, email marketing is cost efficient with a high ROI. Furthermore, you can easily and quickly record and analyze results from email marketing.
When used as a stand-alone messaging tool, email is quite efficient. Email may also be effective to promote a product or service for a prompt sale. Yet, when you look to email as a key part of a sales and marketing campaign, you need much more than just a tool to send and receive messages. You need a platform that can customize your campaign and message for each contact. That's where marketing automation comes in.
Marketing automation can integrate your email strategy and produce better results.
Buying Process
Marketing automation helps you gain insight to your customers buying behavior. It allows you to capitalize on opportunities to induce purchases. It starts with understanding the buying process.

Each buyer goes through a process that starts with awareness. Your goal is to get them to buy from you. And once they buy, you'll want them to buy from you again and refer others to you.
Marketing automation can involve sending a series of messages to your audience. The system bases what message to send from knowledge you have of that customer and where he is in the buying process. So, each contact may be at a different stage in the process and would receive a different message. The higher the price point or involvement of multiple decision makers, the longer the selling process. Marketing automation keeps the process moving toward the sale.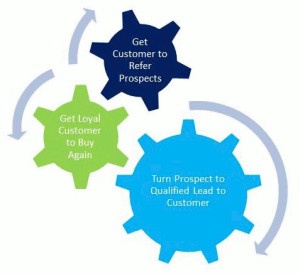 Marketing automation is not just about sending messages to promote your products and services. It's also about collecting information from each contact adding it to your database. This information you collect can identify where each is in the buying process.
Marketing automation can enable you to:
Turn your prospects (qualified leads) to customers
Induce customers to buy from you again sooner and more often with bigger purchases
Get your customers to refer their contacts to you
What Does Marketing Automation Look Like?
Marketing automation integrates technology with data. This data includes information about your contacts, content on your products, services and industry, and one or more ways you can communicate with your audience. You can program what data you want to use, the content you want to share and how you want to send this information to your audience.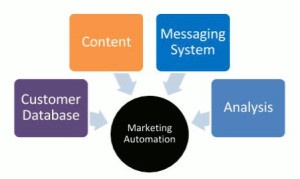 Your marketing automation system can help you determine which stage of the buying process your customers are in. With the right message sent at the best time, your marketing automation system can guide your contact to the next stage.
This can involve one or a few emails for some contacts, and multiple emails, texts, voice messages and postcards for other contacts. So, instead of a campaign with the same single email to everyone, you can develop a series of messages and program the marketing automation system to execute the content of a message for a particular contact. Plus, you get to pre-program and store the content, which can include email letters, direct mail, text and voice messages, PDF reports and landing pages. Your system can provide tools to help you analyze the results and print out reports.
What Your System Can Look Like: Example #1
The following is a very simple, yet small automated marketing campaign:
Your audience opts in to your email in response to your offer for a free report.
Your automated marketing system sends each opt-in contact a series of email auto-responders.
The first email is a thank you letter with a link to the report to download.
The remaining emails are sent automatically at times programmed into the system. You can determine how many emails to send out in a series and the content for each email.
Each email could include a link to your landing page that in turn sells a product or service that they buy online.
What Your System Can Look Like: Example #2
Here is what a bigger campaign could look like. Notice how separate series of auto-responders integrate with the customer database but go out on different timelines:
Same steps as the first example, then the following steps:
You program a send series of auto-responders. A few emails contain a short surveys of questions about their companies and likely problems; this information gets stored in their contact database; other emails contain invitations to a webinar.
Depending on the answers to the survey questions, the system then automatically sends them the appropriate case study, whitepaper, or other educational information.
For those contacts that register for the webinar, you send a series of emails, texts and voice mail to remind them of the event.
Between the emails from each series of auto-responders, the contact decides to purchase the product on your landing page.
After he or she purchases the product, a series of email auto-responders go out with order confirmation, shipping information, and a survey about the buying experience
An email several weeks later goes out requesting feedback about the product or service and link to your social media site for a testimonial.
Emails can go out every few weeks. These can include information about another product, or it can encourage your contact to buy again if your product is consumable. Plus, your email can ask for a referral.
Finally, you can automatically send a postcard or text about a special promotion; your system can analyze the results of the responses in real time.
Marketing Automation Is Ideal for Many Types of Companies
Before the age of computers, it would take many people days or weeks to perform what a simple automated system can do for you today. Now that it can integrate with your website, social media, email, text and voice, marketing automation can turn a small business into a giant enterprise. Marketing automation is ideal for companies that meet the following characteristics:
Long buying process
Growing contact database with a wide demographic or psychographic profile
You need a multi-touch message campaign that involves email, text, voice and print
You have a small marketing budget with few sales people, but need to generate a consistent and growing flow of qualified leads, customer re-orders and referrals
Your website is a key driver for sales, especially with eCommerce
You like to make decisions based on analysis to determine which campaigns provide a high ROI and which ones lose money
What are the Realistic Pros and Cons of Marketing Automation?
So now that you know something about marketing automation you may be asking yourself if it is too good to be true. The answer is maybe and no. Here is why:
Like Amazon, you can use a marketing automation system to nurture your prospects with highly-personalized content. When set up and managed properly – and with the right content that you create – your system can help you to convert your prospects into customers and customers into bigger purchasers. This can drive revenues, develop customer loyalty and build brand equity with a high return on investment.
Yet, as HubSpot in 2014 points out, marketing automation is not an easy task to execute. You see, the tools are all there for you to make it work, but you have to deeply think about your campaign and how to best integrate and schedule the different moving parts.
Furthermore, the most important component that will make or break the sale is persuasive content. This is a skillset most people on your management team may not have, and if they did, they may not have the time to create a quality campaign. You must outsource this. The other reason for possible failure is that you must manage it frequently, depending on how many processes you are running simultaneously.
No matter how you plan, develop and execute your system, there is one more thing that can make or break your sales goal: the number and quality of your leads. You can set up your system to do everything except get the lead to your website to opt-in. Many companies may invest in purchasing leads. HubSpot points out this is like adding artificial ingredients to make your business grow.
The best way to generate qualified leads is to create your own marketing programs that attract prospects. These programs may include SEO, search engine advertising, business listings, public relations, blogs and other inbound and outbound marketing strategies. The better the lead generation strategy you have in place, the better your results. Your lead generation strategies can lead to longer relationships with customers compared to purchasing lead lists.
You also need an effective lead generation strategy to offset the losses of customers that may occur in the long run. Even successful companies like Amazon or Conde Nast can lose loyal customers over time. By having a lead generation strategy in place, you can overcome any losses plus add more gains as you build your business with a marketing automation system.
Once you develop these leads organically, you should also execute a multi-channel communication strategy. While email is at the heat of communication with a marketing automation, you should not depend solely on this method. Adding postcards, text, voice and even telemarketing can enhance your results. When you do send email, make sure you contain content that your audience values. Even loyal customers can distance themselves from you if you send too many irrelevant emails.
Case Studies/Success Stories
Moneycorp
Moneycorp is one of the U.K.'s leading foreign currency exchanges with more than £11 billion in annual business, wholesale and commercial foreign exchange operations. They focus their services on achieving long-term customer satisfaction.
Moneycorp needed to easily send daily emails to contacts on the specific currency exchange rates. Plus, the sales team wanted full visibility into web tracking and prior communications with contacts accessible via Microsoft Dynamics CRM (MSCRM). Yet, after Moneycorp was unable to efficiently achieve this goal with its previous system, they sought out a new solution.
Moneycorp selected CoreMotives because it works inside MSCRM and the system captures all of its web tracking and email data at the individual account record level. This allows sales
reps access to timely, relevant information within their native CRM client. With this system, Moneycorp is also able to send daily newsletters to customers and prospects. The team populates each letter with the most recent currency rate data, and when anyone responds to those emails, sales reps are able to look inside MSCRM to customize their response according to specific customer actions such as opens and clicks. This integrated approach increased conversions.
Moneycorp also uses web tracking to store information on any contact who visits its site. This enables them to create a comprehensive record of each contact's activity. This gives sales reps valuable information before each call.
Using CoreMotives, Moneycorp now sends four times as many emails in half the time it took to previously send one. Plus, they now include email flash alerts whenever a currency price significantly changes. This process takes less than an hour to complete from creation to approval to send. They are also able to track their campaigns, where it was not possible with the previous provider. Now Moneycorp can see how many clients trade because of a particular email alert, and this provides measurable ROI for each email program.
Moneycorp CRM Product Manager Deane Roe says,
"It is very powerful being able to store data on people we haven't yet identified, because once they fill out a form, we can move on that action immediately, right when they are searching currencies…Having that insight is priceless."
Workopolis
Workopolis is a Canadian company that provides a job portal. They switched from an email batch and blast strategy to a marketing automation system. They developed the new strategy around customer behavior and buying lifecycle. The strategy included four automated emails and at least one phone call from the team. After the first eight weeks, the company achieved the following results:
20-25% higher open and click-through rate averages compared to untargeted emails
98-100% delivery rate
0% unsubscribe rate with 1 opt-out since launch
The company expects a higher customer retention rate than before as well.
1-800-GOT-JUNK?
1-800-GOT-JUNK? is a full-service junk removal company that hauls away items that city garbage collectors do not typically accept. They serve both consumers and businesses. Their marketing objective is to create and sustain loyal customers who come back for repeat services.
Prior to using a marketing automation system, 1-800-GOT-JUNK? would batch and blast email messages to contacts within its database without having a strategy that focused on segmentation or customer experience.
The company began to use the Silverpop platform to convert first-time buyers into loyal, recurring customers and drive revenue via its automated programs. The marketing team implemented several automated campaigns. These included email marketing messages, plus a customer loyalty program and a call center program.
The customer loyalty program involves an auto-responder series of four emails over a 90 day period. The goal is to increase customer loyalty and retention while also generating new leads.
Each message contains organizational and recycling tips. Plus, it links to the company blog, shares for social media sites and some soft promotions. The system customizes the content of the email according to if the contact is in the U.S. or Canada. They reward contacts who share the content with their social media followers with a gift card via direct mail so their campaign is multi-touch and multi-channel.
The results of the customer loyalty program are impressive. It has an open rate of 20 percent. Plus, it contributes nearly 4 percent to the total revenue from email. Furthermore, the results improve with each email in the series, proving that a multi-email campaign is much more effective than a solo email. The third email, which contains a promotion and a link to the company blog, converts 65 percent more than the second email and 88 percent more than the first email.
They tested a call center program that integrated with their automated campaign. If the caller did not buy anything, the call center placed him or her into an autoresponder series. Five minutes after the call ended, the automated system would begin to send out a series of emails that contained testimonials. The two-month pilot resulted in a 4.3 percent conversion rate.
Today, the company has transformed its email program to include multiple automated programs. Each message generates up to $180,000 in revenues, and they plan to incorporate more behavior-based campaigns in the future.
Next Steps
Marketing automation is a vital tool to help you develop customers and boost your sales. When integrated with a well-thought out lead generation strategy, marketing automation can give you a competitive advantage. Plus, you can earn a higher ROI than by just sending out batch and blast emails. These are the reasons why you should put marketing automation at the top of your marketing to-do list today.