So your business has decided to attend a trade show in hopes of expanding your reach. But as you look among the masses, you start to get a sense you are one of many. So the question lingers: How are you going to reach your target audience?
The answer to this question is two-fold. One is how well you prepared before for the event. The second answer is creating an environment during the event that ensures people know you are there, how to find you, and why they would even want to find you.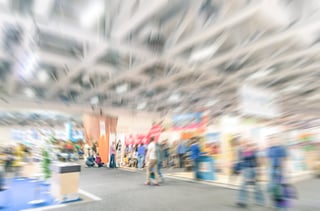 Here are 6 ways to help you be found and reach your target audience during the event:
1. Be Seen in More Places Than Just Your Booth
Almost all trade shows have an event guide that each participant receives. Negotiate a placement of your ad where it will be seen – and don't forget to include your website address and your booth number at the event. Make it easy for people to find you.
Lanyards are another great avenue to get your information out to the masses. Talk with the organizer and see what marketing opportunities they offer to help you promote your services and products.
2. Place Your Information on Everything
Whatever you decide to hand out or advertise, make sure ALL your information is on everything. We have seen companies who hand out promotional items with information relevant to only that specific event.
For example: A stress ball that has their logo on it and says, "Come see us at booth ###." The problem with this is after the event is over, the stress ball may make it back but there is no contact info. Make sure you have at minimum a phone number, website, and booth number. If room permits, and it doesn't overwhelm the item, consider adding an email address and even a QR code.
Make it as easy as possible to reach you. If they have to take any time at all looking up how to get in contact with you – you run the risk of missing a contact.
3. Do an Event during the Event
People are drawn to action. Whether it's a live demonstration of your product, or a one-time drawing for a sweet giveaway, do something that brings people in.
In the case of a live demonstration, have a countdown clock to the next time the demonstration will happen. Create expectations and excitement.
If you have a drawing for a great gift, make sure that the time of the drawing is posted and say that you need to be present to win. These are ways to create buzz, gather people's information, and show off your great product.
4. Use Social Media
If it doesn't make it to social media, did it actually happen? A great way to expand your reach is to use social media while at the trade show.
Find out if the trade show is using a hashtag (example: #tradeshow) to share news and events with attendees and start using it.
Follow any of the users who are using the #tradeshow hashtag you identify based on their profile to be a prospective customer.
Follow the show organizer and retweet or share their posts. Oftentimes when you support them via shares and retweets, they "spread the love" by sharing your comments or occasionally retweet your tweets, giving your business more visibility.
Publicize your booth number. Invite people via your social media and offer something special that nobody else will get unless they are retweeting or sharing your post. Or offer a sample or free trial of your product/services for a retweet.
Take and post pics. Take pics of people with your booth or using your products and post on your social media using the trade show hashtag and, if possible, tagging the people in the pic.
5. SWAG Bags
People love free stuff! Especially things that they can actually use. Promotional Products Work shows the effectiveness of promotional items:
55% of participants generally kept their promotional products for more than a year.
76.3% of attendees had a favorable attitude toward the company that gave them the product.
71.6% of attendees who received a promotional product remembered the name of the company that gave them the product.
When you are thinking about free giveaways, think about the practicality of it and what need it meets. Cindy Perea helps break it down into categories:
Tech Promotional Ideas (car USB charger, screen cleaners, cell phone cases, etc.)
Items to Use during the Show (hand sanitizer, breath mints, ID holders, lip balm, etc.)
Everyday Use (bag, water bottle, t-shirt, etc.)
Office Use (stress ball, pens, sticky notes, etc.)
The key here is that whatever you give away, it should lead them back to you. And even better is if what you give away is actually connected to your product or services.
6. Collect Info
The trade show is not the time to get shy about asking for people's info or business cards. This is where a drawing will help. People are more likely to give their info if they feel they will receive something in return.
Also, make it easy! Scan attendees' business cards, QR codes, and show badges to create a record of people you meet who are interested in your product or service. Be sure to follow up with them individually as soon as possible. Make notes if you can about what you discussed so that you'll have conversation openers to use when you contact them.
Be willing to share your information. Have your business cards handy so that people feel you want to build a partnership, not just gain information.
Wrapping It Up
Being at a trade show is so much more than just shaking hands and getting to know people. Your business has to reach out and do all it can to bring them to the place of a handshake.
Allow us to help you maximize your presence at a trade show that will result in more contacts and more sells.