More than ever, marketing today is a 24/7 operation. It has to be if you want to stay competitive. The digital transformation changed consumers' expectations about how they interact with brands and how companies present themselves to the world.
They want more access and crystal-clear brand style that inspires or comforts them. Moreover, they expect you to know who they are and respond – in a highly personalized way – to their needs.
That's a lot for a beer maker, or flooring business, or flower shop, or whatever your business is to take on. Even so, we get that too often in the past, companies have felt that a monthly marketing retainer paid out to a marketing agency has been more an act of faith than bottom-line results.
However, this is no time to go down the marketing path alone. Partnering with the right marketing agency is more crucial than ever to distinguish your brand and find and connect with your tribe. But you deserve to get your money's worth! Here are five ways the right marketing agency more than pays for itself.
Marketing firms' expertise is marketing. Your company has its core competencies, right? It's not marketing; it's the combined expertise that goes into the services or products you rock so well, people pay you good money for it. That's the level of marketing expertise you get with a team of marketing specialists supporting you.

With marketing agency standing with you, your company benefits from decades of combined experience across all facets of marketing strategies and tactics. You have access to a broader, more diverse skill set at a monthly rate that pales compared to what you'd have to shell out if you hired all these people in-house from marketing managers to content strategists to social media specialists to marketing tech experts. And then there are the creatives – design and writing. We deal with them, so you don't have to. You just benefit from their compelling creativity.

The digital transformation didn't just change the relationship between consumers and companies. It's generated an explosion in the options companies have as to where and how to market themselves. It's impossible (and inadvisable) for a company to engage in all the marketing channels and strategies available today. The differentiator that will make your marketing more successful than your competitors is exploiting the right selection from today's multitude of marketing strategies and tactics. Choose poorly, and you'll waste considerable money and effort on the wrong ones. With a marketing agency helping you to choose wisely, you'll see a quantifiable ROI on your marketing spend.
A marketing agency will also set out clear strategies and metrics to define those results, both over the short- and long-term. Marketing today is a long game of highly interconnected approaches that all enhance the effectiveness of each other over time. That means that the actual marketing output generated per agency hour continually increases, along with your ROI, over time. Implementing a robust content and technology strategy creates marketing assets that work for you 24/7, connecting you to qualified prospects at whatever hour they're looking for a solution you provide.

However, you still need to generate quick wins. Marketing agencies are adept at identifying the low-hanging fruit to get things rolling fast; say, how to execute an on-point Google Ads campaign that expands your audience or focusing on building your presence on the social media channels most relevant for generating leads and revenue. The sharp, outside marketing team is always playing the short and long game on your behalf, and with alacrity.

Have I mentioned the unparalleled quality and quantity of output generated by the agency team? Part of having decades of expertise is that marketing expertise continues to grow and expand. These dedicated teams are trying out every new marketing tool and every new marketing strategy that comes up. They learn quickly which have real value and for whom, and which are the just the latest, bright, shiny object. An in-house marketing team can't afford to do this kind of experimentation with new methods and approaches, which is why they're slower to respond to shifts in the market and can't develop their marketing experience as broadly as can agency personnel. An hour of marketing agency effort provides more value than an in-house hour.
Partner perks. Lots and lots of perks. As a marketing agency that directs lots of dollars to different ad platforms and other digital access gatekeepers, we have leverage with these platforms individual businesses don't. We can get early access to new programs to improve audience targeting or personalization, benefit from special pricing, get priority to high value digital real estate, and enjoy the faster response from their support teams when we reach out – and we pass all these perks on to our clients.
You will be spending your marketing budget, but will you get your money's worth?
One way or another, you are spending on marketing. The only question is where will you get the best ROI.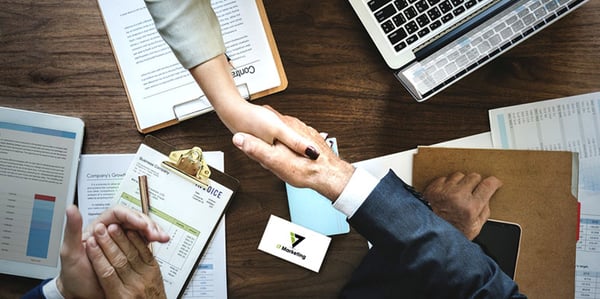 You can spend it on a small, in-house team that always seems to be playing catch-up with the fast pace changes in marketing, or you can spend it on a full-service marketing agency dedicated to doing nothing but quickly identifying and mastering every new turn in the marketing landscape.
Images from Pixabay and Unsplash.