Networking with other business owners is a great way to get connected and gain potential referrals. A little quid-pro-quo? When it comes to running a business, not everyone is competition. As a matter of fact, there are few businesses that are completely self-sufficient.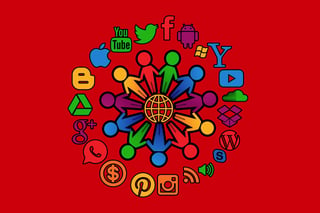 Almost every business depends on another business. Even if you run a bakery and make all your goods from scratch - the eggs, flour, and even the marquis most likely come from someone else.

Typically when we think of networking we think of live networking events like at the Chamber of Commerce, or a Network after Work event. But there is real value in using social media to network and here are 4 ways social media can help your business network and ultimately lead to more customers.

1. Visibility

Obviously every business has a desire to be known. Social media allows your business to reach out to other businesses at any time in a variety of ways for a variety of reasons. There is no need to wait for a once-a-month event and you aren't restricted by a physical location. With today's virtual world, networking is no longer confined to local businesses.


To be clear: This is not an either/or proposition. Networking needs to be both/and. Your business needs to be connected to others online, but there is great benefit in meeting face-to-face. It allows relationships to grow deeper. But using social media is a great way to begin the conversation and start building mutually beneficial relationships.
2. Reputation Building
As important as it is to be known, it is just as important to be known for being an expert in your specific business. Social media can help establish your expertise. It can be through a blog that you post on your website or LinkedIn Pulse, tweets that add value, connections and discussions on LinkedIn groups that give people confidence in the services and products you offer. Here at i7 Marketing, we have had other marketers refer our services to potential clients. Why? Because we have shown our expertise in online marketing and we have spent time connecting and building relationships with other marketers. We have shared their great insights and they have shared ours. Which leads to...
3. Sense of Connection
Networking has to be a two-way street. This means that it is not just about you promoting your own agenda. It actually requires reaching out to others who are like-minded. Once you have found the people you want to connect with, you can start having conversations. Once you are in conversation, you can maintain the relationship with a light touch, knowing they are only a direct tweet or message away.
Tip for Connecting: Ask open-ended questions in networking conversations. This means questions that ask who, what, where, when, and how as opposed to those that can be answered with a simple yes or no. This form of questioning opens up the discussion and shows others that you are interested in them
Social media is great for the introverts who hate using the telephone, but finds it easy to have a textual conversations on the go each day! Maintain your connections by using hashtags, @mentions, as well as checking for others mentioning and reaching out to you. Follow up is key to building and maintaining great online connections.
4. Act on Referrals
Follow through quickly and efficiently on referrals you are given. When people give you referrals, your actions are a reflection on them. Respect and honor that and your referrals will grow. This can be done via social media, but sometimes it might be more effective to place a call or make a personal visit. No matter how you decide to follow up, make sure you do it quickly and then thank whoever made the referral regardless of the outcome.
In Conclusion
Every business can use a little help now and then, so why not work together to maximize opportunities and expand your reach. If you are looking for marketing solutions do not hesitate to contact us. We love innovation and do revolutionary marketing for our clients to keep them ahead of the rest of the world.