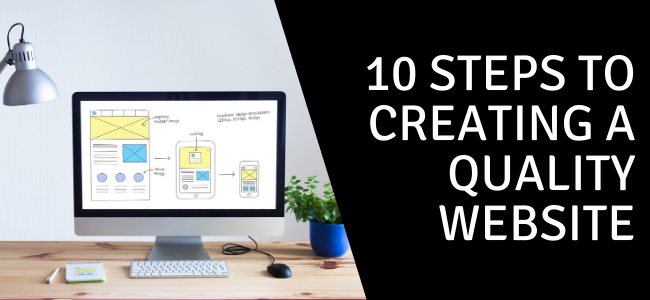 It has never been more important to craft a website that people will remember positively. Some sources (including Mill for Business) say there are well over 1 billion websites while others say that the number is growing closer to 2 billion. Here are some tips to make your website stand apart from the rest.
Create both evergreen and topical content. Evergreen content is the type of content you can write once and, for the most part, let it just sit on your website without needing to change it often. This content can seem like your best friend. However, the problem with evergreen content is, without new pieces of content, people will stop coming to your site. After all, if you aren't doing anything new, why should they care? A good website will always supply visitors, new and returning, with fresh content. Some examples of fresh content can include tips for the holidays, shopping deals, DIY guides, new products, expansions, and new locations. New content encourages visitors to keep coming back, so they won't miss anything.


Put your best foot forward. It's tempting to keep the good stuff at the bottom of a page, but you want to make sure you have enough interesting information starting above the fold to encourage the reader to read all the way to the bottom. Don't be afraid to put your most compelling content towards the top; this draws a reader in and encourages them to keep reading.


Make sure your website is easy to navigate. From navigation bars to site structure, make sure that your visitor can find their way around very simply. The more tricky a site tries to be the more likely the visitors will leave. Make it intuitive – people like to know what to expect when they get onto a website. Keep your navigation at the top of the page, make your logo a button to click to get back to the home page, use breadcrumbs, these are all ways to make sure that your user doesn't get lost on your site and click out before they've found what they are looking for.


Make sure all pages are working. Talk to your web developer or use Screaming Frog to make sure all your pages work correctly. There is nothing more frustrating than thinking you've found the information you need, just to click on the link and find it's broken, or doesn't go to the page it's supposed to. Talk with your website developer and have them make sure your whole site is working properly, or use a tool like Screaming Frog to discover errors on your own.

Make your content scannable with bold text and short paragraphs. In the digital stratosphere, everything is fast-paced, especially when it comes to reading articles. Visitors want to find out what they need quickly. So creating content that is easy to scan quickly allows them to go as in-depth as they want to. Take this article, for example. A visitor could choose to quickly read just the bold bullet points, or they can find out more information by reading the description. They can even go one step further and click on links to find out more information in different places on this site or other sites. The idea is you are providing multiple levels of interaction to fit a wide variety of visitors' needs.


Brevity of content. While it may be tempting to write a 5,000-word article about why Red Delicious apples are better than Granny Smiths, chances are it will be a wasted effort. Most people just don't want to read an article that long. Make sure that your content covers a topic, but doesn't beat it to death. Most topics should be easily covered in around 2,000 words. If you use more or less, decide if splitting the piece into two or adding that content to a different page would be better choices.


Encourage interaction. Ask your visitors to sign up for a newsletter, donate to a cause, or walk through your front door – always give them something to do. We call this a "Call to Action" or CTA. Other examples include clicking on links, registering for an event, sharing something on social media, or joining you in a chatbox. All of these are excellent ways to engage with your audience.

Don't underestimate the power of color. Everyone has different color preferences. So it's even more important to choose your colors very carefully when designing a website. Many, many people with many different tastes will be entering your site, and you don't want them so distracted by your color scheme that they forget to get the information they were looking for, or worse so distracted they never come back. Keep your pallet simple, with 2 or 3 colors that go well together.


Make your contact info easy to find. Don't hide your Contact Us page. Make sure it's easy to find right in the navigation bar. Make sure it has your physical address as well as a way to email you directly, or call you on the phone. This way, if your visitor can't find the information they are looking for, they have a way to contact you directly to get what they need. Don't forget to put your hours of operation too!


Add new products. Last but not least, if you have things for people to buy or freebies, don't forget to rotate them out. People, especially millennials, love to support their favorite brands, stores, or causes when they get something unique that's branded. So make sure you're providing them with new things that show them as your loyal customer. Let other people promote your business in their everyday life.
Simple, easy and user-friendly is best!